<What is Furoshiki?>
 "Furoshiki" is a Japanese Traditional Wrapping Cloth, a square piece of fabric, which usually has an elegant and decorative design. Furoshiki fabric cloth has become more and more popular around the world lately as an Eco-friendly product. 
The furoshiki can be used as a picnic sheet.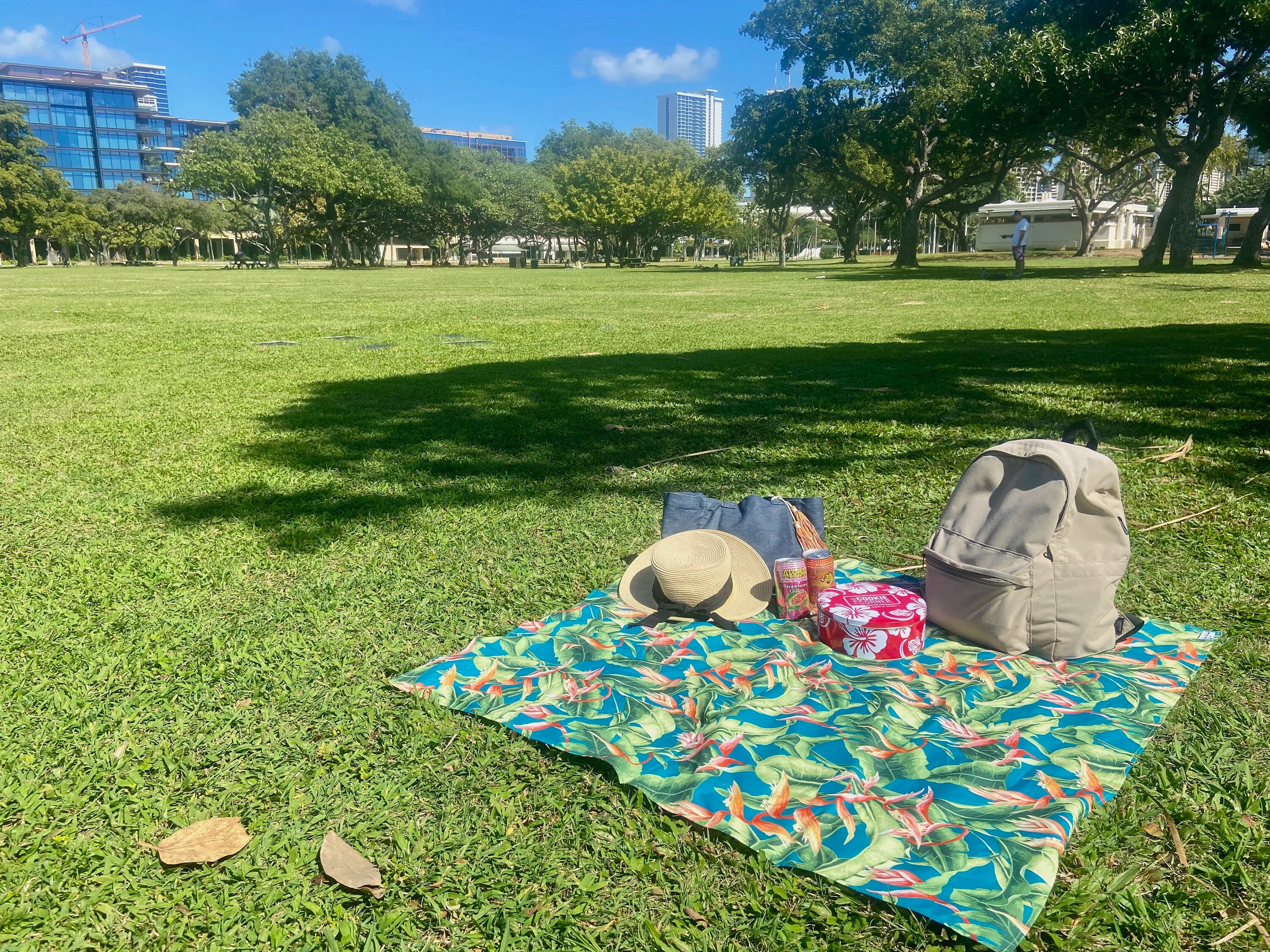 After that, you can use the furoshiki as a bag and wrap it all.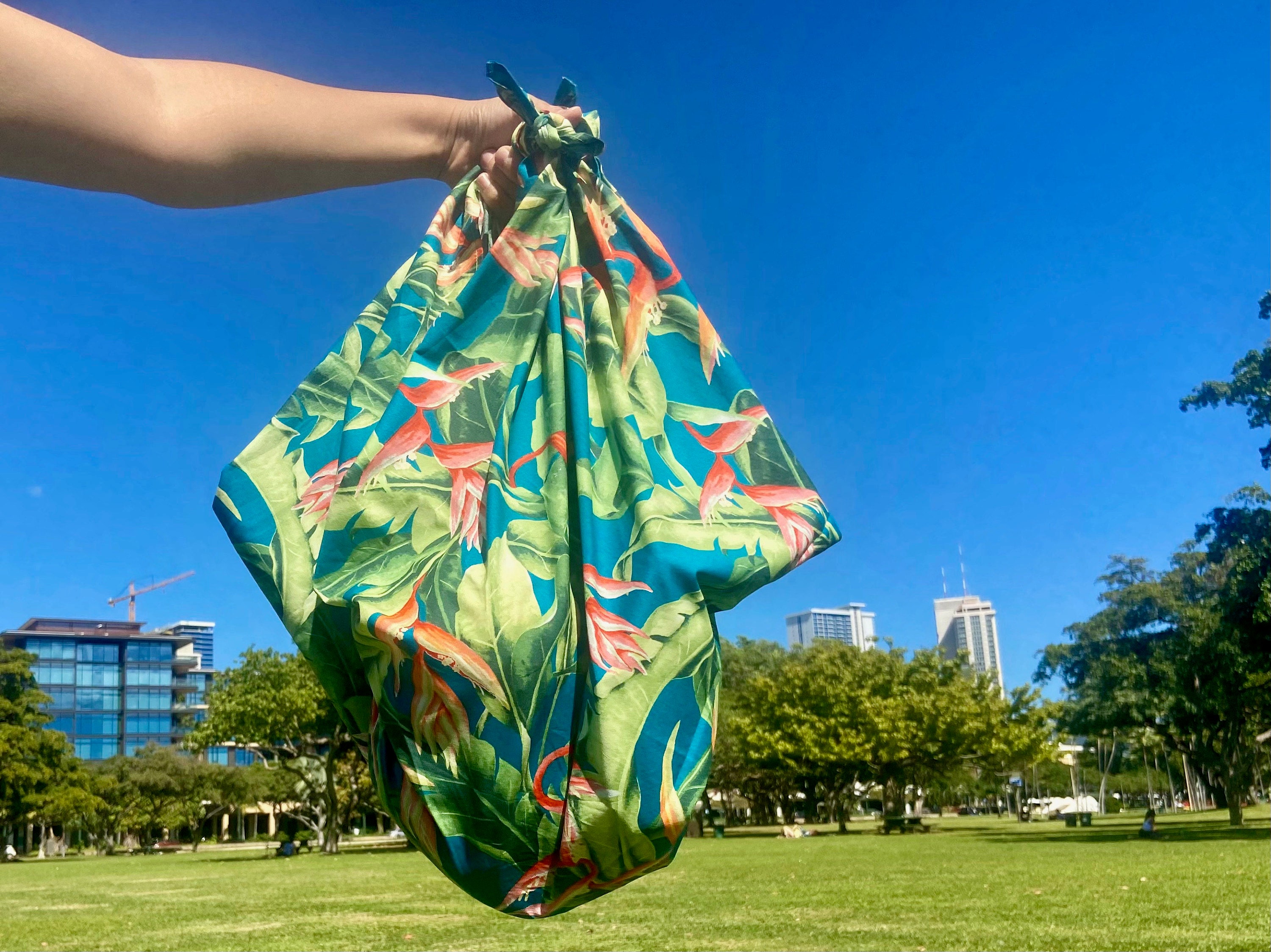 <Gift Wrapping Idea for your Romantic Valentine's Day> 
   How do you wrap a wine bottle with wrapping paper? I know, wrapping gifts is always important when it comes to holidays and special events, especially for Valentine's day. If you have tried to wrap wine bottles with paper before, you are probably aware of how annoying to make it look nice.
 Since Furoshiki is cloth, you don't have to worry about getting it wrinkled, and might be easier to give a nice-looking gift presentation. Not only for that, here is another benefit of using Furoshiki wrapping for wine bottles instead of paper or gift bags. The fabric itself prevents the bottle from scratching and protectable. On top of that, the person who received the gift will be able to keep it as nice memorabilia and reuse it in many kinds of ways.    Furoshiki functions as a wrapping for all sorts of objects, from wine bottles, homemade casseroles, pies, or gourmet food gift boxes, even just a box of chocolate. It elevates the gift packages themselves feel like gifts and elevates the whole experience.
<Here is a quick tutorial on how to use Furoshiki>
"Creative Gift Wrapping - Pineapple Shaped Wrapping"
"4 ways to wrap FUROSHIKI; wrapping gifts, bottles, and making a backpack" 
(Fabric Hawaii Facebook Page)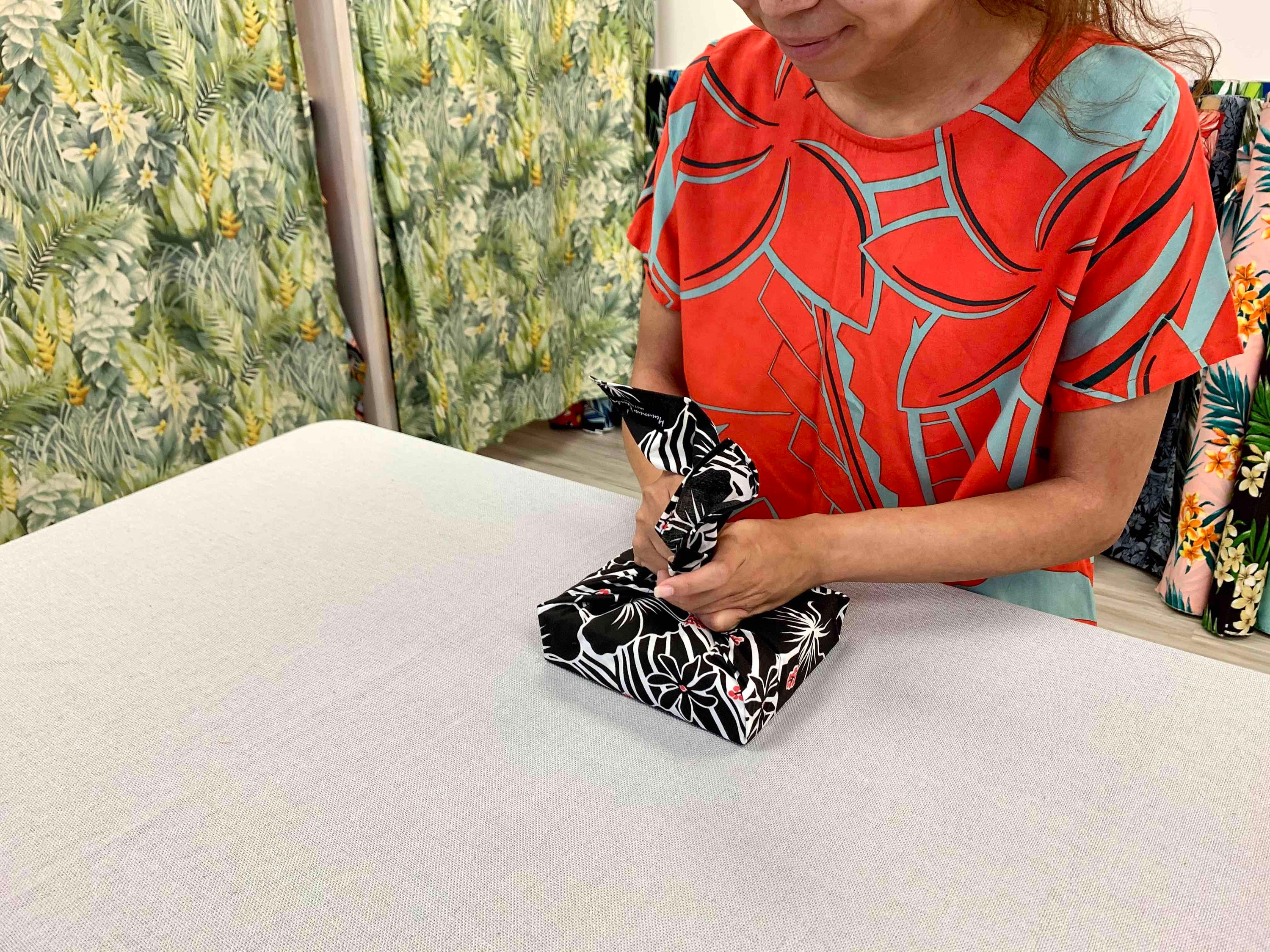 You can also take a look at the infographic on How to Use Furoshiki on the webpage of the Ministry of the Environment Government of Japan.(Reference: Ministry of the Environment Government of Japan - 1/28/2021)
We recommend Large size Furoshiki for Wine Bottle wrapping, which can be used for a nice tablecloth or other home decoration. Small size Furoshiki can be used as a placemat, or for wrap a lunch box.L: 42" x 42" (108cm x 108cm)S: 21" x 21" (54cm x 54cm)  I know it's been a very difficult year for everyone due to the yearlong catastrophe of the COVID-19 pandemic. And we've all made extra effort to support each other. 
This is the perfect day to show appreciation and love all around, your partner, parents, kids, co-workers, neighbors, and essential workers!! Even your pet who stays at home with you and cheers you up all the time!
<Our Online Store>
■ Check Our Furoshiki Fabric
Large:42" x 42" (108cm x 108cm)
Small:21" x 21" (54cm x 54cm)We will make a furoshiki with your favorite pattern fabric from our selections at . (*Take a few days to make it. )
Check Our Fabric ■ for Him → Cool Polynesian Tapa Prints 
■ for Her  → Lovely Color Selection
■ for Kids → Unicorn Pastel Rainbow Fabric 
Check Pet Valentine's Day Gifts 
■ for Pets →D
<Valentine's Day Event Announce!>
You can meet us at the "2nd Annual Hearts and Crafts Gift Fair"Date: Feb. 13th, 2021 (11am - 7pm) *subject to changeLocation: Ka Makana Alii (91-5431 Kapolei Pkwy, Kapolei, HI 96707)